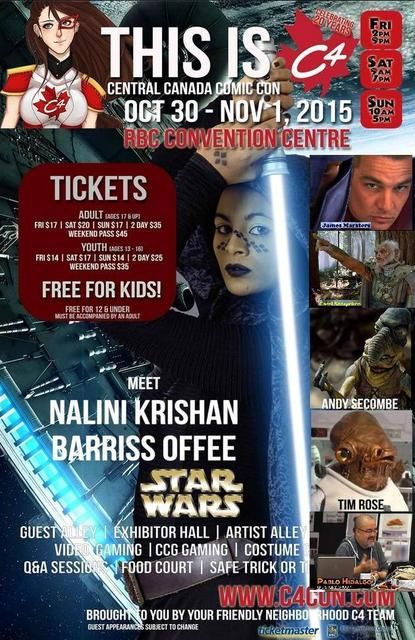 The Central Canada Comic Con returns for another big year this October 30th-Nov 1st at the Winnipeg convention center.
This year has a little something for almost everyone!
Guests Include:
Gary Busey
- Dancing With the Stars - Lethal Weapon
Jake Busey
- Dusk Til Dawn Netflix Series - Starship Troopers
Sylvester McCoy
-
Doctor Who
-
The Hobbit
Rob Van Dam
- ECW/WWE Wrestler
James Marsters
-
Buffy The Vampire Slayer
Emma Caufield
- Buffy The Vampire Slayer
Walter Jones
- Power Rangers
David Yost
-
Power Rangers
Veronica Taylor
- Pokemon
Sean Schemmel
- DragonballZ
Gates McFadden
- Star Trek TNG
Garrett Wang
-
Star Trek
Voyager
Robert Picardo
- Star Trek Voyager
Chris Harrelson
-
The Walking Dead
Carel Struycken
- The Adams Family -
Ewoks: Battle For Endor
Nalini Krishan
-
Star Wars
Prequels
Andy Secombe
- Star Wars Prequels
Tim Rose
- Star Wars OT &
The Force Awakens
Pablo Hidalgo
- Lucasfilm Story Group, Author
Neal Adams
- Legendary Artist
Mike Grell
- Legendary Artist
Todd McCaffrey
- Award Winning Author
And tons more! Three solid floors features with hundreds of vendors, artists, events, video gaming, fan clubs, costuming and costume contests, Wrestlers, CCG gaming and tons more! As always this event remains one of the most affordable conventions of its size in North America - 2 day pass is just $35, kids under 12 are free! I hope to see you there!
www.c4con.com
__________________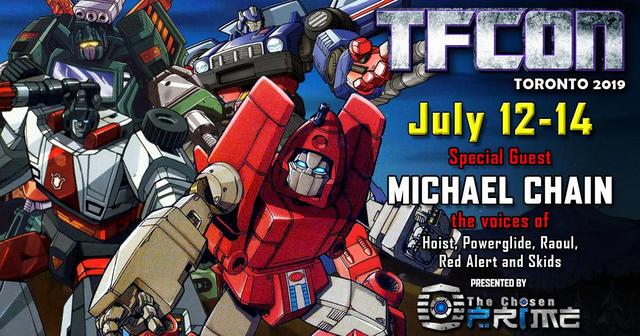 TORONTO TO HOST TRANSFORMERS 35TH ANNIVERSARY EVENT
Special guests include Blu Mankuma the voices of Tigatron and Tigerhawk in Beast Wars and Michael Chain the voices of Hoist, Powerglide, Raoul, Red Alert and Skids in Generation 1.
Visit the
TFcon Website
for all the info!!!!!